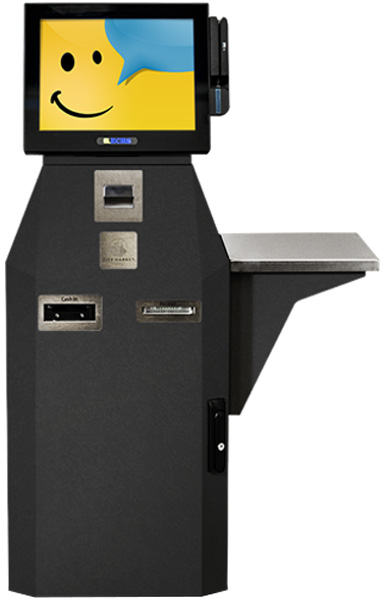 ECRS' City Market kiosk allows retailers of all sizes and types to enjoy the benefits of self-service technology. The compact design fits comfortably in smaller footprint stores or in specialized departments of larger stores. Shoppers will appreciate the ease-of-use and fast transaction speed that City Market offers in their purchase transactions. City Market's intuitive interface and overall reliability reduces employee issue-related interaction time and enhances user experience.
Ease-of-Use
ECRS' intuitive software design guides users quickly and easily through their entire transaction with voice and visual prompts. The system automatically resets after each user in a matter of seconds. If there is an abandoned or problem transaction, the system will automatically reset after alerting the user. This prevents "stuck" transactions.
Self-Learning Weight Security (Optional)
This available option ensures incorrect items are not scanned and bagged. It also prevents items that are not scanned from being placed in a bag. The system automatically learns and recognizes items and item weights after their initial scan.
Front Access Maintenance
Store employees will appreciate the easy maintenance City Market allows. All components are accessible through a front door with slide out trays for easy access to components such as the receipt printer and optional cash handling devices.
Customizable Design Options (Software & Cabinet)
Unlike with most other solutions, retailers can choose from 2 color options to fit their store environment. A variety of functionality configurations are also available to fit diverse needs and price points.
Request a QuoteMore Self-Service Options
City Market can elevate your business by:
Offering consumers another option in their transaction experience
Conserving valuable front-end space
Reducing lines and increasing throughput
Re-deploying cashiers from stationary check lanes to the sales floor in order to elevate direct customer service and upselling
Reducing labor costs